When embarking on a hunting trip, having the proper clothing and gear can make all the difference between success and disappointment. What's the best material for hunting clothes? The material that hunting clothes are made from plays a huge role in keeping hunters comfortable, concealed, and performing at their best while out in the wilderness. This guide will explore the most important factors to consider when selecting fabrics for hunting apparel and provide an overview of the top material options currently available.
Why Material Choice Matters
The ingredients of a great day out in the field largely boil down to being warm, dry, and hidden from your prey's sight. The materials used in your base layers, insulation, and outerwear provide the first line of defense against the elements and animals' alert eyes and noses. Choosing the wrong fabrics can leave you wet, chilled, overly sweaty, or visible. Selecting the proper materials for the weather conditions and type of hunting you'll be doing helps ensure you stay comfortable, concealed, and focused.
Key Factors to Consider
Warmth: The material should provide insulation to retain body heat, especially important for colder weather hunts. Wool and synthetic fabrics are great insulators.
Breathability: Fabrics that allow sweat and moisture to evaporate keep you drier. Look for moisture-wicking materials.
Noise reduction: Materials that don't rub or rustle together excessively help you stay quiet. Soft, natural fabrics are ideal.
Odor control: Naturally anti-microbial fabrics prevent odors that could alert prey. Merino wool has great odor control.
Durability: Your hunting clothes should withstand brambles, brush, and the rigors of the hunt. Seek out abrasion-resistant fabrics.
Wind and water resistance: Outer layers made of fabrics like Gore-Tex provide a waterproof, wind-blocking barrier.
Mobility: Lightweight, stretchy fabrics allow a full range of motion for hiking, climbing, and shooting.
Leading Material Contenders
Merino Wool
This natural fiber comes from Merino sheep breeds and makes an excellent base layer. The soft, breathable fabric provides warmth and wicks sweat away from the body. It doesn't retain odor and is naturally antimicrobial. While pricey, merino wool is a popular choice for hunters seeking comfort and performance. Brands like First Lite rely heavily on merino wool in their hunting apparel.
Synthetic Fabrics
Polyester and nylon are synthetic fabrics popular in hunting clothing. Both dry extremely quickly and are durable and resistant to pilling. Polyester retains some heat when wet. Nylon is highly abrasion-resistant. These fabrics are also relatively inexpensive. Sitka Gears uses synthetics in their subalpine hunting apparel to provide warmth at a lower cost.
Hybrid Fabrics
Many hunting brands now use proprietary fabric blends to achieve the perfect balance of durability, mobility, warmth, and more. Kuiu's NuYarn Merino is a nylon/merino wool blend acclaimed for its temperature regulation and breathability. Other unique offerings include odor-controlling blends from ScentLok and waterproof-breathable fabrics from Under Armour.
Insulated Fabrics
Materials like PrimaLoft, Thinsulate, and Polartec use fluffy synthetic fibers that trap air and provide insulation for outerwear and critical warmth zones. Fleece is a popular insulating fabric thanks to its lightweight and breathability. Wool also provides excellent insulation. These fabrics help retain body heat in frigid conditions.
Softshell Fabrics
Softshells strike a balance between hard shells and base layers. Materials like stretchy fleece and spandex blends offer weather resistance, breathability, stretch, and insulation. They work great as mid-layers under hard shell jackets or as outerwear in mild conditions. Brands like Sitka and Kuiu rely on softshells for versatile hunting apparel.
Hard Shell Materials
When you need impenetrable exterior protection from wet snow or rain, choose a jacket made with a waterproof-breathable hard shell fabric like Gore-Tex. Gore-Tex jackets keep external moisture out while allowing internal sweat vapor to escape. Other proprietary fabrics like Toray's Entrant DT are also engineered for waterproofing, breathability, and stretch. Hard shells trap body heat, so layer accordingly.
The Importance of Layering
Rather than relying on a single jacket or bib, hunters layer garments to provide customizable insulation and protection across a range of weather conditions. Using multiple thin layers gives more flexibility than bulky cold-weather hunting coveralls.
Base layers made of moisture-wicking merino wool or synthetics keep skin dry and comfortable. Insulating mid-layers like fleece helps retain body heat. Outer hard shell jackets provide a protective barrier from wind, rain, and snow. Together, these layers work together to keep you performing at your best. And you can shed or add layers as conditions dictate. Following the layering system is crucial for adaptable warmth and coverage.
Matching Fabric Performance to Conditions
Certain hunting scenarios call for specific fabric capabilities in your gear. Learn to analyze the expected environmental and activity conditions, then choose your clothing materials accordingly.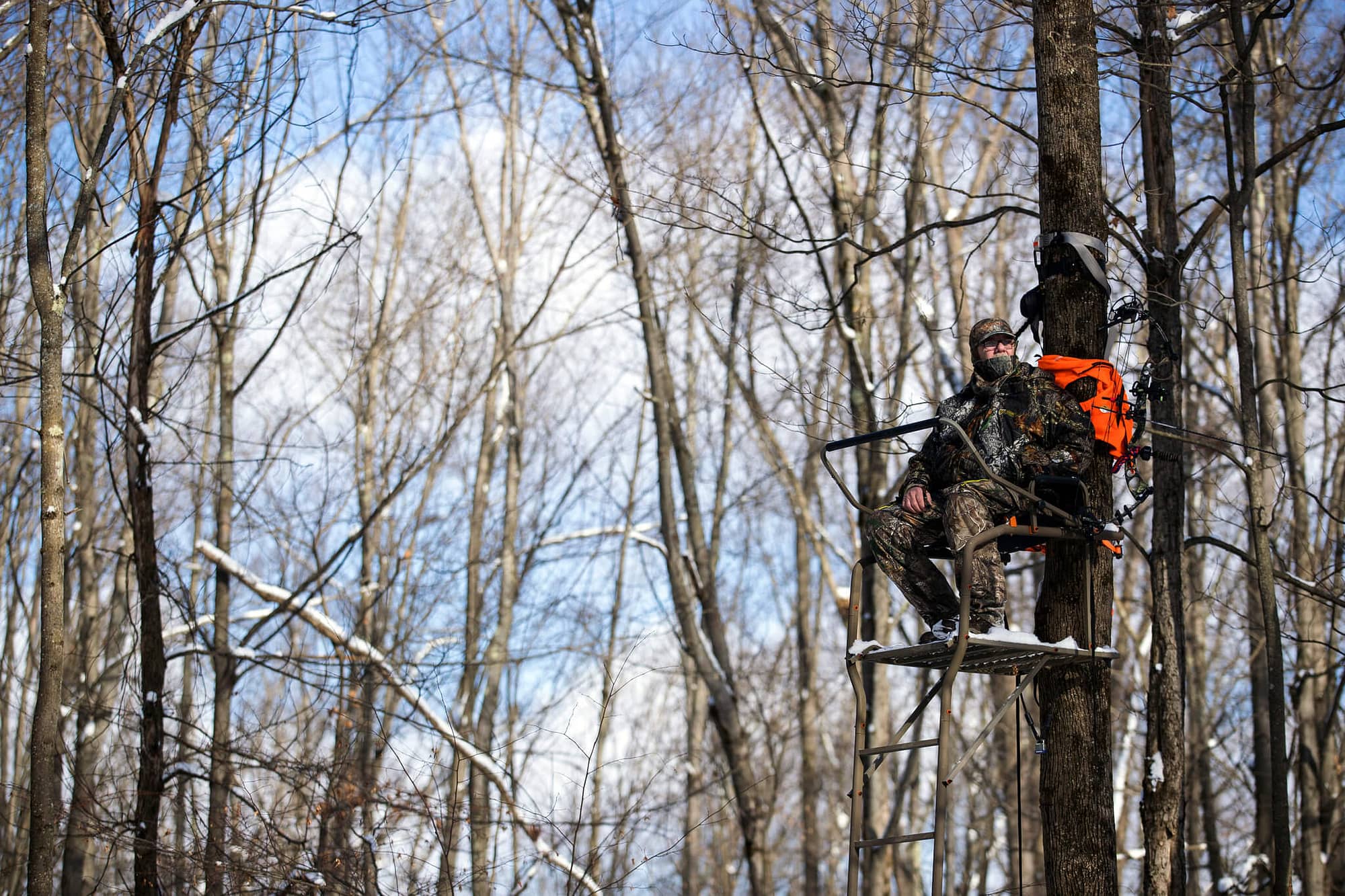 For treestand hunting during frigid weather, you'll want maximum insulation and waterproofing. During a deer drive where you're actively flushing deer, choose lighter, breathable fabrics for heat regulation and mobility. Stalking upland game birds on a crisp autumn afternoon? Opt for soft, quiet mid-layer insulation and a weather-resistant outer shell. Analyze the hunt's unique demands, then select materials engineered to excel.
Specialized Hunting Gear
The type of hunting you pursue should guide your fabric choices too. Waterfowl hunting demands tremendous water resistance and insulation against chilling moisture. Breathable fleece layers make sense for active big game hunts in the backcountry. And hot weather whitetail hunts call for fabrics with venting capabilities, wicking performance, and sun protection. Match your clothing materials to your specific hunting niche.
Camouflage and Safety Considerations
The patterns and colors of your hunting apparel also factor into success. Camouflage helps conceal your form and movements. But blaze orange is also mandated in many areas during gun seasons. Look for jackets and bibs that combine camo with orange trim and panels to keep you both concealed and legally visible.
Qualities Worth Investing In
While you can find budget hunting clothing, choosing quality materials from reputable outdoor brands is advisable. Durability, longevity, and field performance are worth paying for. Top brands also offer better warranties and services. Where possible, go for performance features like DWR coatings, reinforced stress points, odor control technologies, and smart pocket designs. Pay for quality materials upfront, and they'll reward you hunt after hunt.
The Bottom Line
Being comfortable, concealed, and properly equipped while hunting boils down to the right choice of clothing materials. Keep warmth, weather resistance, breathability, mobility, and noise reduction in mind when evaluating fabrics and layering systems. And match your apparel's materials and features to the specific hunting conditions you'll face. Choose wisely, and you'll be rewarded with hunting clothes that perform in the field year after year.